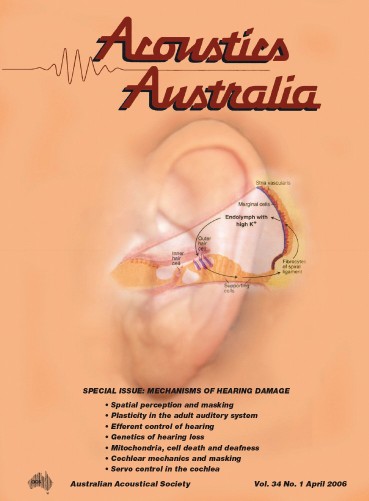 Journal Special Edition: April 2006
From The Guest Editor:
Since the last issue of Acoustics Australia directed at basic mechanisms in 1993, biological research has drawn over a billion of dollars of funding and is poised to make several huge advances. Hearing science has increasingly embraced other disciplines, such as genetics and molecular biology, which at first glance might seem to have little connection with acoustics. Accordingly, the Australian authors were challenged to condense into just a few pages those developments which may soon have application to acousticians and clinicians, i.e. the articles had to relate to sound parameters, signal processing, engineering concepts and auditory psychophysics...
The April 2006 issue is a special topic issue, with guest editor Eric LePage. The price, A$27.50 (approx USD 20), includes postage and handling. For Australian buyers, it includes GST. For overseas buyers, it includes airmail postage.